Latest topics
»
Selling my Red Sea Max 130D
by
TWBriz
Tue 05 Jul 2016, 12:54 pm
»
Collectors sps frag pack
by
blueseatex
Thu 30 Jun 2016, 12:01 pm
»
Selling a couple of tanks
by
Danny21
Tue 21 Jun 2016, 4:50 pm
»
Reef Breakdown Sale
by
David012081
Sun 17 Apr 2016, 9:33 pm
»
Reef tank breakdown sale.
by
ritter678
Wed 13 Jan 2016, 10:29 pm
»
Converting 90 gallon reef tank to freshwater sale
by
oifwarvet
Sat 09 Jan 2016, 8:58 pm
»
mp10Wes,Storm controller, oxidator
by
blueseatex
Wed 09 Dec 2015, 11:29 pm
»
FREE starry blenny. Very healthy.
by
jakebetts0501
Sun 08 Nov 2015, 2:17 am
»
Help with lighting.
by
oifwarvet
Fri 06 Nov 2015, 8:55 am
»
equipment bonanza
by
Carabelli
Mon 02 Nov 2015, 12:32 pm
»
Need to Sell all livestock and LR
by
grawlfang
Sat 24 Oct 2015, 2:45 pm
»
Fish tank and equipment for sale!
by
anthonydsims34
Tue 13 Oct 2015, 2:29 pm
»
North Texas Reef Fanatics October Coral Frag Swap
by
markmesquite
Fri 28 Aug 2015, 11:53 am
»
2.5 gal pico tank for sale $40
by
jakebetts0501
Thu 30 Jul 2015, 8:39 pm
»
Looking for Custom Stand and Hood Builder
by
ETX
Thu 30 Jul 2015, 4:02 pm

Just got back from a cruise in the Caribbean. We went snorkeling in Costa Maya at the second largest reef in the world. I'm getting my underwater reef pics developed today so I hope some turn out good. It was raining and cloudy the whole time we snorkeled but it was totally worth it. I hope to have some decent reef shots to show later today. We had an awesome time. The reef was amazing. The amount of life down there is ridiculous. Every single rock on the floor had corals, algae, or gorgonians growing on them and every rock had fish around it, even the smallest rocks had some life on or near it. There were some cool things you don't get to see in tanks. We were literally face to face, (and sometimes back to back

), with the reef. I'll post more later when I get the pics developed but I highly recommend if you ever get the chance to view the reef in Costa Maya don't turn it down.
Conch I found in the surf in Costa Maya.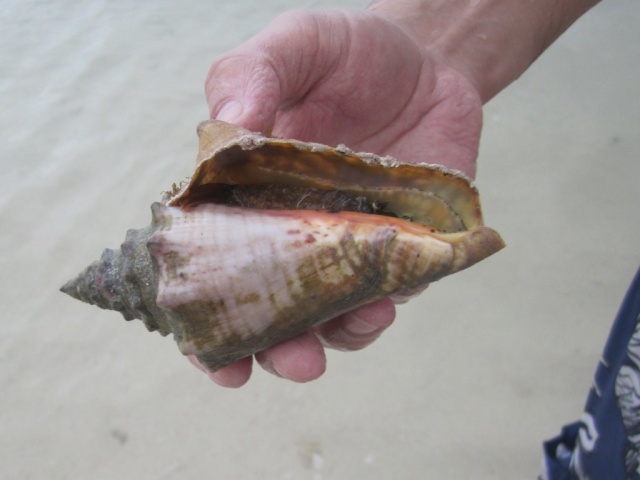 This huge parrot fish was swimming in the surf next to the bar in Cozumel along with a bunch of huge Sgt. Major damsels and Atlantic Blue Tangs.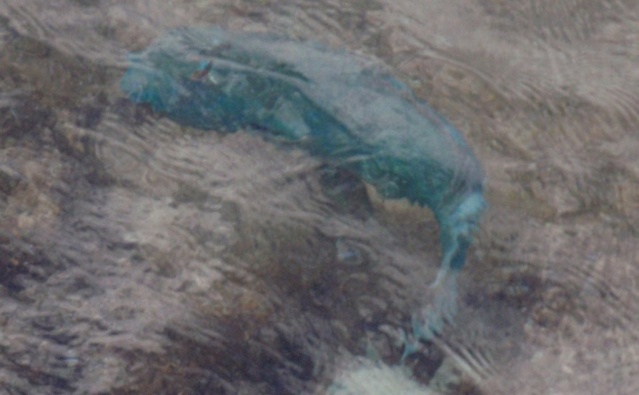 Beach in Cozumel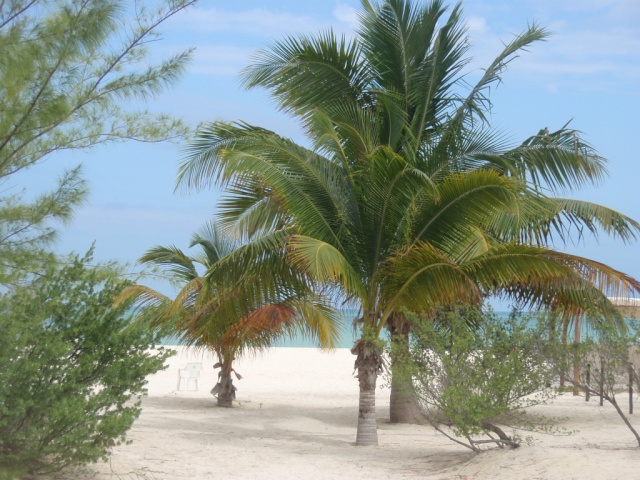 This boat was stranded from a Hurricane in Costa Maya.
Some sunsets from various places or in the middle of the Caribbean/Gulf.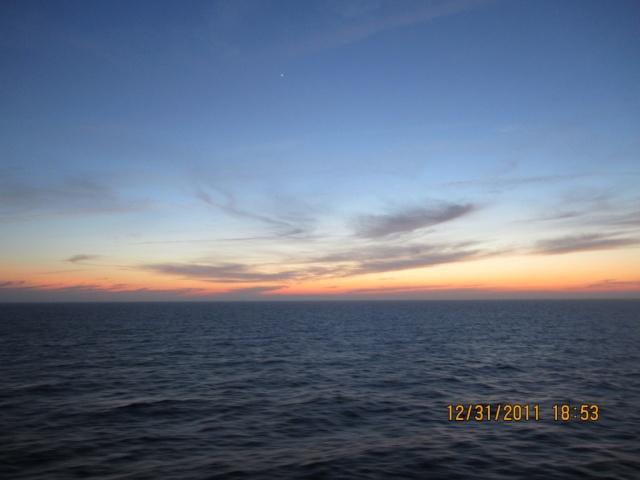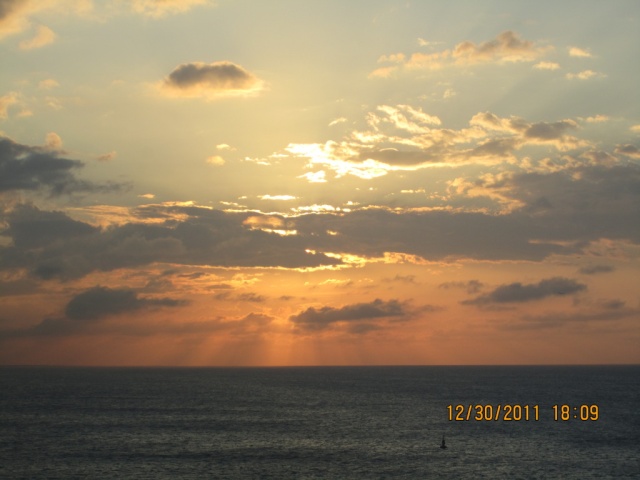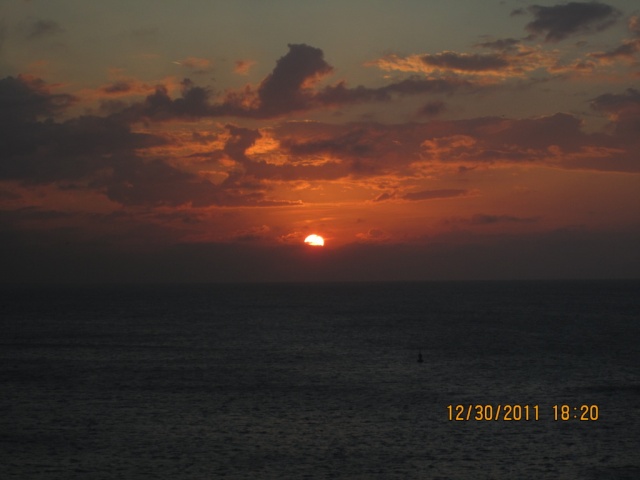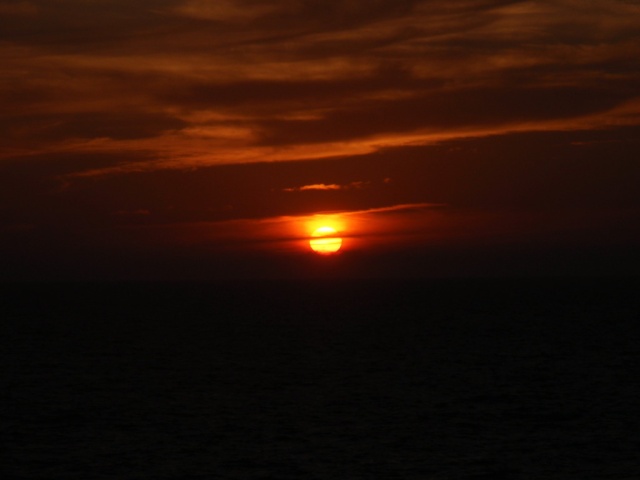 .





Posts

: 1716


Points

: 4766


Reputation

: 40


Join date

: 2011-01-14


Age

: 41


Location

: Marshall, TX



Jealous!! I can't wait to see the underwater pics. Did you see anything that you just had to add to your tank?
.





Posts

: 2388


Points

: 5363


Reputation

: 0


Join date

: 2011-01-18


Age

: 32


Location

: Longview TX



.





Posts

: 289


Points

: 3018


Reputation

: 0


Join date

: 2011-01-24


Age

: 57


Location

: Near Mt. Pleasant



matt_longview wrote: Did you see anything that you just had to add to your tank?
Yes, everything!

There was so much down there that I could have spent the day at one large rock and not seen everything on it. The coolest parts were seeing the fish in natural habitat. There was one tiny knoll on the bottom with a small gorg growing out of it and underneath was a pair of yellow tail damsels side by side. Another bigger rock had a trio of large tangs hanging out together like they were protecting the spot. I'm not sure what kind of tangs they were but they looked like orange shoulder tangs without the orange shoulders. Most of what we saw was hard corals, brains, sps, pagoda cups, etc. There was one large rock formation that was covered on the back side in yellow pagoda cups. I didn't notice many soft corals but there where a ton of purple sea fans, gorgonians and others I didn't even recognize. I didn't notice any anemones but where we were snorkeling was a lot of flow. There were Atlantic blue tangs and Sgt. Major damsels EVERYWHERE, huge ones. The damsels were as big as my hand. There were so many fish I didn't recognize but they looked like wrasses. There were a few huge fish here and there but they mostly hid unlike the reef fish that seemed unfazed that we were there. This spot we went to wasn't even the main reef. A little further out was the main reef and you could see the waves breaking over the top of it. It would have been too tough for us to snorkel around but I'd like to get a look at it one day. You can see in the pics the amount of algae floating around is insane. It was everywhere. It didn't bother our view but it made taking pics difficult. The pics didn't turn out like I wanted to but you'll get the idea of what it's like down there. We were literally there at the reef close enough to touch but I sure didn't want to disturb anything. The algae, weather, current, waves and a crappy disposable camera made for some bad pics but you can sort of get the idea. We were in about 6-7 feet of water at all times. It was pouring rain almost the whole time and we drove a two person boat out to a floating platform to snorkel. We were freezing on the boat ride out but the water was perfect. It felt so nice except for when we had to swim through a floating mat of algae and got stung by something. I asked the guide what was stinging and he said they were sort of like "no see ums". Not sure what they were but it felt like jelly fish but it was burning in small spots. It burned for a day a little but by the next day it was completely gone...and totally worth it. I'd swim right through it again if I had to.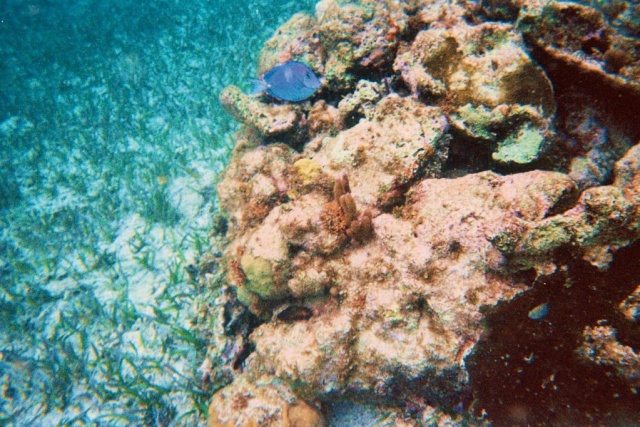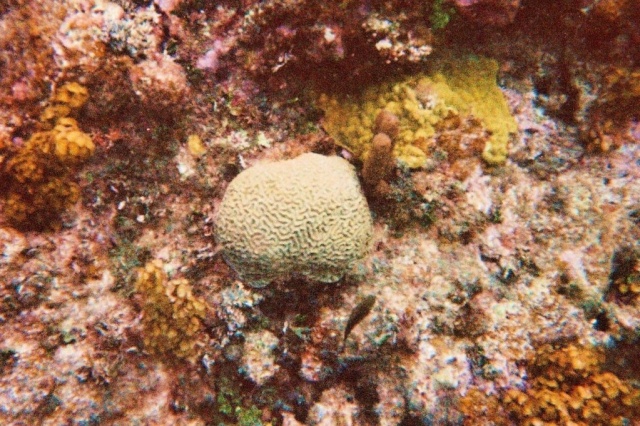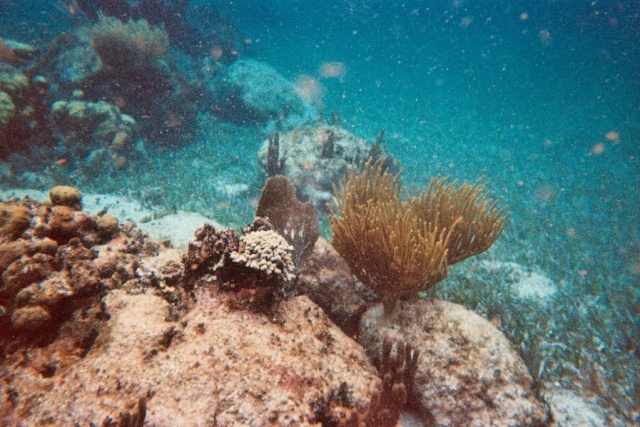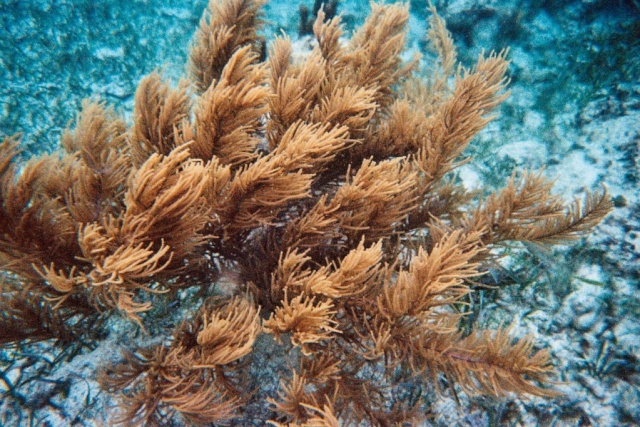 This colony of sps was as big as a small car.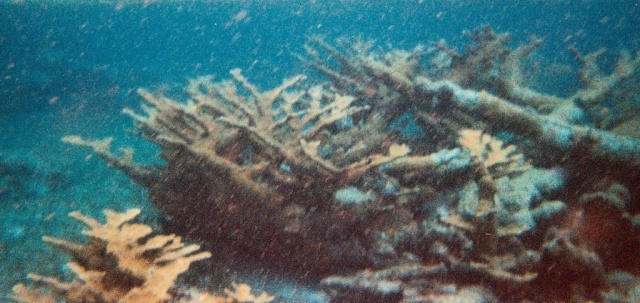 This colony of sps was so bright it caught my eye from a distance. The camera doesn't pic up the color but it was an electric yellow/green that I've never seen in a tank.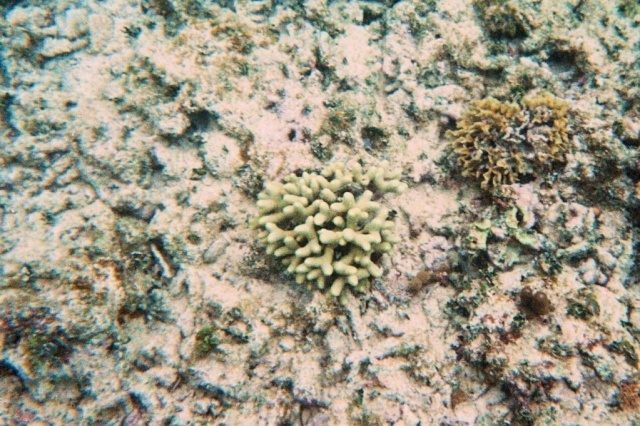 I could have spent the entire day at this one spot. It was about as big around as a large truck and completely covered in life. The top of it was maybe only a foot under water.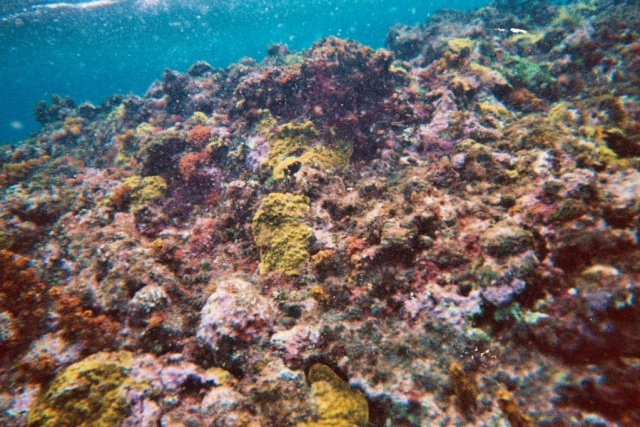 Another thing I noticed was the amount of death on the reef. The beach was COVERED in dead corals, sps branches and anything you can imagine. You could literally scoop up a handful of beach and it was littered with dead corals. Most of it was sps branches but there were also a ton of open brain and Caribbean Rose brain skeletons. We also found several euphyllia skeletons but I didn't see any in the spot we snorkeled. Not sure what the were but it looked like branching hammer coral heads and there where a few that looked like elegance coral skeletons. You could scoop up a handful and it was crawling with amphipods, snails, crabs and all sorts of life.
.





Posts

: 1716


Points

: 4766


Reputation

: 40


Join date

: 2011-01-14


Age

: 41


Location

: Marshall, TX



ETAK ROAD-TRIP!!!!

Showing no envy what so ever. "it looks very .... pleasant."
I'm amazed that you managed to spend some of the daylight hours not in the water, it looks bloody marvelous, and your wish list must now have extended 10 fold. Were you not in the slightest bit tempted to get a few small plastic containers and on your last day, go back and frag a few samples to bring home?
I know I would have been.

Airport Security "Excuse me Sir, but what's in that 2 ft long plastic bag over your shoulder?" A bright Gorgon floating around in the bag.

Gabe (Thinking quickly) "Oh it's just a piece of dead coral, it's my son's, for his school project"

On a slightly similar topic to that, I knew a guy that bred Canaries. He was married to a Greek lady, and happened to see one he really liked whilst on vacation visiting the In-Laws.
As the family saying went "Auntie Elfie, smuggled a canary, stuck up her bloomers leg."
The UK had strict 6 months quarantine rules, against Rabies ( although the thought of a rabid canary does bring strange images to ones mind), hence the smuggling.
What's more, they got away with it, and it survived!

Sorry Gabe, but I just got this image of you with a couple of Anemones attached to your thighs under your boxers.....urgh....not a nice image.
.





Posts

: 1030


Points

: 3785


Reputation

: 0


Join date

: 2011-02-02


Age

: 59


Location

: Tyler



Unbelievable stuff. I hope that one day I can go snorkeling on a reef. It is one of those things on the bucket list. I am with Jet. A few frags would never hurt anything. U could have overnighted them to me and I could have held on to them till u got back.

.





Posts

: 791


Points

: 3621


Reputation

: 0


Join date

: 2011-01-14


Age

: 50


Location

: Marshall, Tx



.





Posts

: 1252


Points

: 4242


Reputation

: 30


Join date

: 2011-01-18


Location

: Longview



Cool stuff Gabe, I always wanted to snorkel a reef, great barrier to be exact but we know that aint gonna happen :>) Glad you enjoyed it and shared it with us!
.





Posts

: 981


Points

: 3778


Reputation

: 0


Join date

: 2011-01-14


Age

: 66


Location

: Marshall Tx



awesome pics I hope you had a blast I need to get salty again myself have not scuba dived since 1995 ( due to exwife taking everything and not wanting to replace it)
.





Posts

: 611


Points

: 3100


Reputation

: 10


Join date

: 2011-11-26


Age

: 54


Location

: Longview



Glad you all liked the pics. If any of you get a chance to get out there you totally should. We booked the snorkeling trip through the cruise line and it didn't even cost that much. I think it was about $60 each to drive a boat in the Caribbean, snorkel for a couple hours and spend the rest of the day at a super nice beach with free food and open bar!
.





Posts

: 1716


Points

: 4766


Reputation

: 40


Join date

: 2011-01-14


Age

: 41


Location

: Marshall, TX




---
Permissions in this forum:
You
cannot
reply to topics in this forum