Latest topics
»
Selling my Red Sea Max 130D
by
TWBriz
Tue 05 Jul 2016, 12:54 pm
»
Collectors sps frag pack
by
blueseatex
Thu 30 Jun 2016, 12:01 pm
»
Selling a couple of tanks
by
Danny21
Tue 21 Jun 2016, 4:50 pm
»
Reef Breakdown Sale
by
David012081
Sun 17 Apr 2016, 9:33 pm
»
Reef tank breakdown sale.
by
ritter678
Wed 13 Jan 2016, 10:29 pm
»
Converting 90 gallon reef tank to freshwater sale
by
oifwarvet
Sat 09 Jan 2016, 8:58 pm
»
mp10Wes,Storm controller, oxidator
by
blueseatex
Wed 09 Dec 2015, 11:29 pm
»
FREE starry blenny. Very healthy.
by
jakebetts0501
Sun 08 Nov 2015, 2:17 am
»
Help with lighting.
by
oifwarvet
Fri 06 Nov 2015, 8:55 am
»
equipment bonanza
by
Carabelli
Mon 02 Nov 2015, 12:32 pm
»
Need to Sell all livestock and LR
by
grawlfang
Sat 24 Oct 2015, 2:45 pm
»
Fish tank and equipment for sale!
by
anthonydsims34
Tue 13 Oct 2015, 2:29 pm
»
North Texas Reef Fanatics October Coral Frag Swap
by
markmesquite
Fri 28 Aug 2015, 11:53 am
»
2.5 gal pico tank for sale $40
by
jakebetts0501
Thu 30 Jul 2015, 8:39 pm
»
Looking for Custom Stand and Hood Builder
by
ETX
Thu 30 Jul 2015, 4:02 pm
Just got back from vacation in San Antonio and stopped in Austin at some of the LFS down there. I contacted the members of Austin Reef Club and they recommended a few places so I stopped in on the way back. I also went to Sea World and took a few pics in the coral exhibit.
Over all I have to say the coral displays where a little disappointing. I was hoping for large tanks full of acros but they had mostly clams, star polyps, few LPS, and few SPS.
These are some of the coral displays.
This tank was COVERED in GSP. Even the clams had them growing up the sides.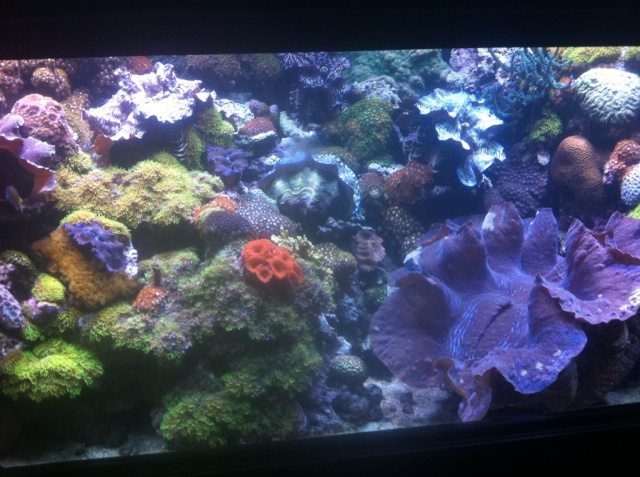 This clam (T. gigas?) was impressive aside from the large bleached spots on it. The size was amazing though.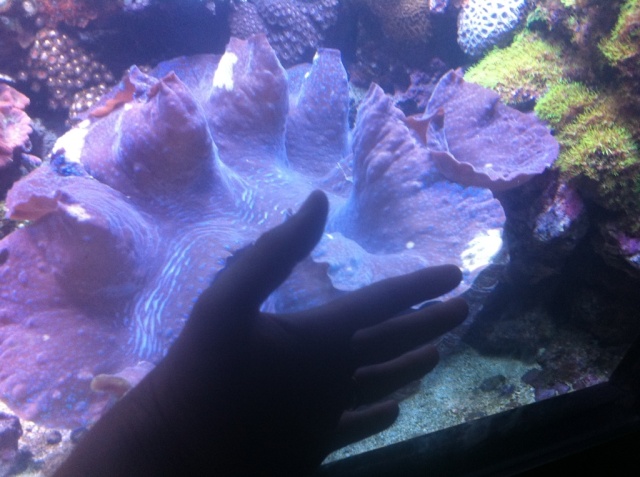 I was puzzled by this clam. It was colored like a derasa but it had huge scutes on the shell so I know it wasn't that. Maybe a squamosa or a crazy colored maxima?
The only thing that stood out too me in the fish only display was the size of the fish. There were some LARGE aquarium fish in there but nothing that really stood out except for a large angel I couldn't get a pic of, a trio of clown tangs that were running each other ragged and this massive unicorn tang. The pic stinks but it's all I could do with my cell. This thing looked almost 2 ft. long.
I liked this tank more and there was a large rabbitfish in the tank. This tank had a decent display of SPS/LPS.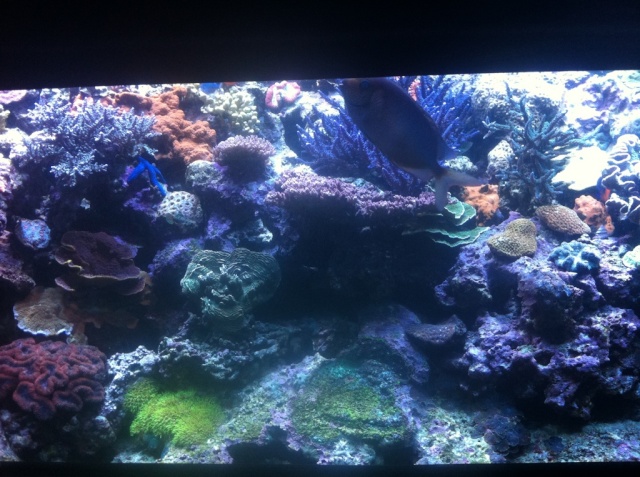 Some of the tanks were depressing with some seagrass, a few sponges and a few fish. There was one tank with only mushrooms and some large PJ cardinals that looked really bland. There was one tank no more than 100 gallons that had a trio of Royal Grammas and a trio of chalk bass which irritated me because I've tried to keep multiple grammas before and it ended badly.

If you're ever in Austin I highly recommend Aquadome. This one one of the better LFS I have ever seen and the prices where affordable. Nothing in that store was over priced. They had MANY tanks and rack systems filled with just about anything you could ask for. They also had some of the largest fish I've ever seen for sale and I don't mean groupers. They had the biggest clownfish I've ever seen and the biggest flame and bicolor angels. I stopped at two other places but was less than impressed. River City Aquatics was more expensive and their coral tanks were less than spectacular. One tank was full of leathers and brown monti caps and the other was so blue I couldn't tell what color the corals really were. They did have a nice display with SPS but of course none of that was for sale. Aquatek was ok, affordable but there was less selection than Aquadome. They did have some nice pieces though and I picked up a couple corals from there. All of the places I stopped in where very nice and the people were very friendly. I recommend all 3 if you're in the area. The least of the 3 stores were infinitely better than any of the local places here. I'm still kicking myself for not getting this large nearly softball sized favia I saw at Aquadome. I did pick up a red open brain, a large rock of neon clove polyps and a nice sized colony of SPS that looks like a garf bonsai but the guy at the store told he wasn't sure what it was because it was wild collected. I'll get pics of the other new ones when they open up but this is the brain that I bought.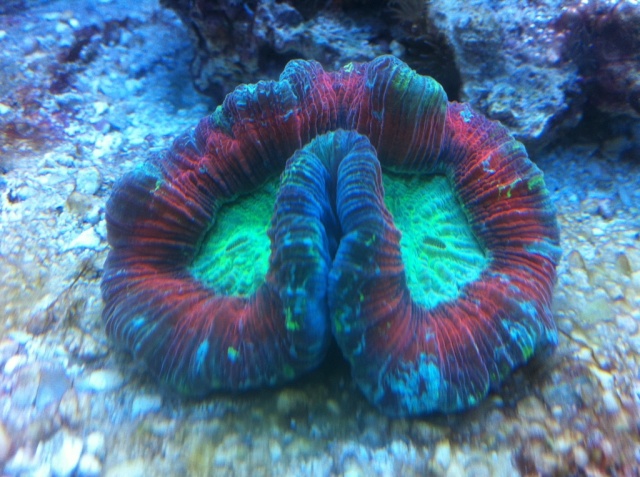 This is only ONE of the coral displays at Aquadome.
.





Posts

: 1716


Points

: 4613


Reputation

: 40


Join date

: 2011-01-14


Age

: 41


Location

: Marshall, TX



I forgot to add what impressed me most about Aquadome was the large QT tank in the back and not one fish in the whole store looked unhealthy or had ich showing. Not one of the stores I visited had ANY fish with ich in the displays and all of them looked healthy. I had actually picked out a different red brain, (they had 4!), and when the guy went to get it out of the tank a nearby lobo had stung one side of it and before I could say anything the guy showed it too me and wouldn't sell it. Thumbs up!
.





Posts

: 1716


Points

: 4613


Reputation

: 40


Join date

: 2011-01-14


Age

: 41


Location

: Marshall, TX



Ohhhh jealous. I'd trade you brains. I'm just sayin.... lol.

I also think that second clam is a squamosa. Either way, it's gorgeous! :-)
.





Posts

: 2388


Points

: 5210


Reputation

: 0


Join date

: 2011-01-18


Age

: 32


Location

: Longview TX



Sounds like you had a good time.
I will be going to a seminar next month in Houston and want to see what I can find there to look into.
.





Posts

: 791


Points

: 3468


Reputation

: 0


Join date

: 2011-01-14


Age

: 50


Location

: Marshall, Tx



Grimreefer wrote:
I will be going to a seminar next month in Houston and want to see what I can find there to look into.
I know The Fish Gallery in Houston is supposed to be awesome. I haven't made it by there yet though. I'm going to Dallas for a weekend next month so I'll see what goes on there.
.





Posts

: 1716


Points

: 4613


Reputation

: 40


Join date

: 2011-01-14


Age

: 41


Location

: Marshall, TX



Neptune's Cove in Dallas is pretty nice. He is very well priced too. i will have to check out the Fish Gallery.
.





Posts

: 791


Points

: 3468


Reputation

: 0


Join date

: 2011-01-14


Age

: 50


Location

: Marshall, Tx



.





Posts

: 1716


Points

: 4613


Reputation

: 40


Join date

: 2011-01-14


Age

: 41


Location

: Marshall, TX



---
Permissions in this forum:
You
cannot
reply to topics in this forum